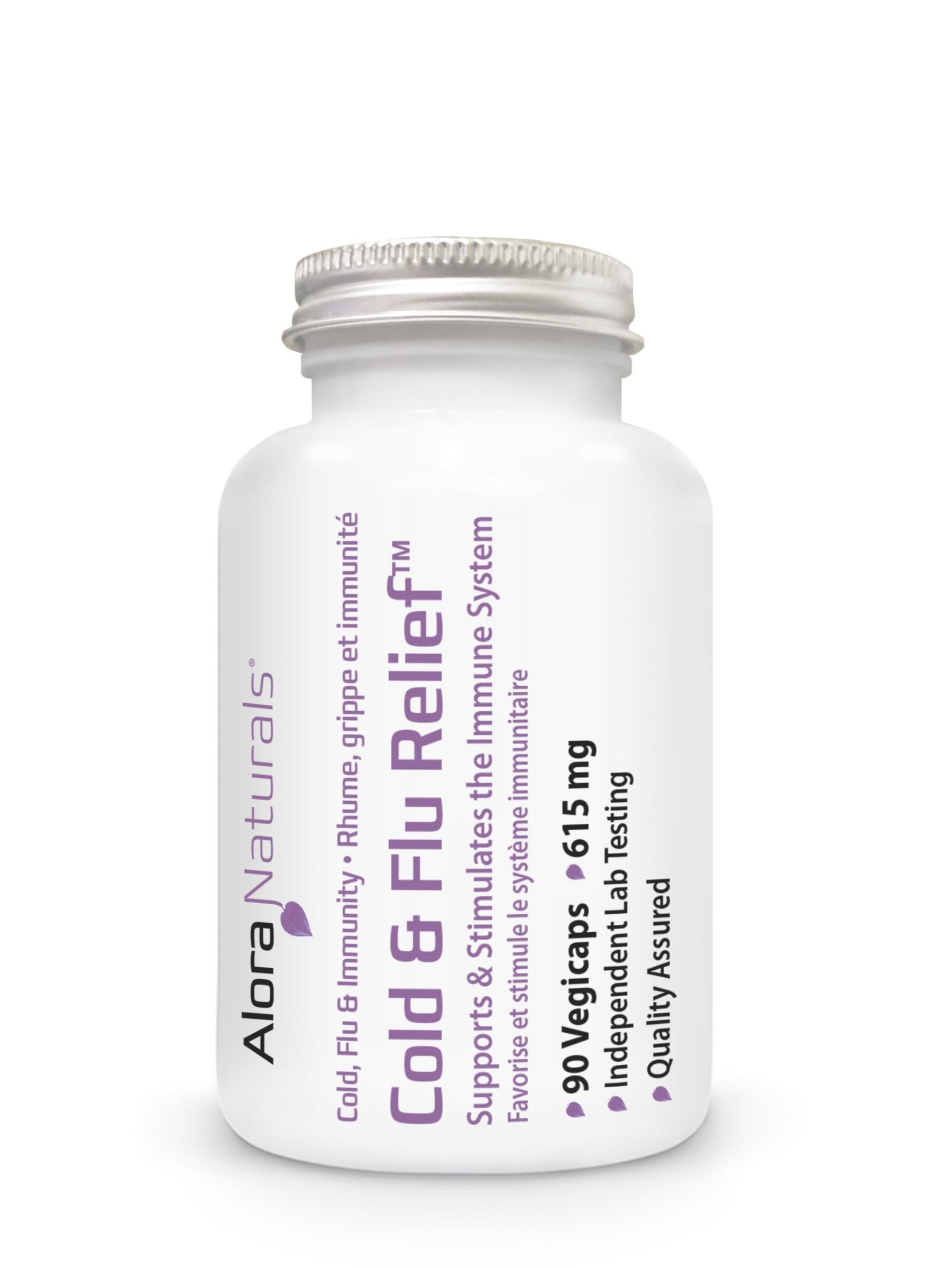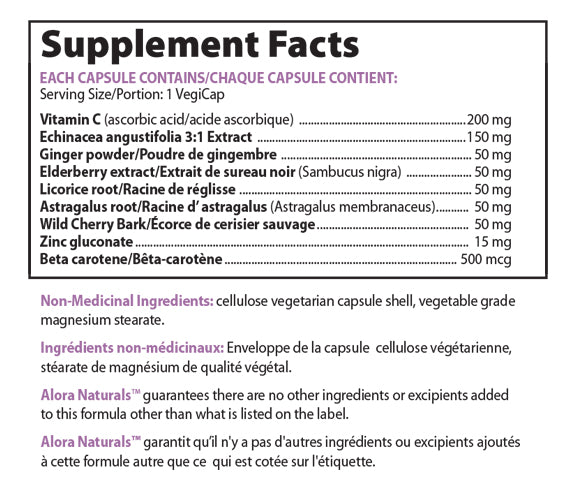 Alora Naturals - Cold & Flu Relief 90 Vcaps
Pickup currently unavailable at Vikings Nutrition
Alora Naturals - Cold & Flu Relief 90 Vcaps
Vikings Nutrition
Pickup currently unavailable
5712 Rue Jean-Talon E
Montréal QC H1S 1M2
Canada
+15145081988
Cold & Flu Relief combines potent herbs that help to fight off colds and minor flu symptoms.  Cold & Flu Relief is specially formulated to stimulate the immune system and act as a tonic for all mucous membranes.
Our Cold & Flu Relief formula contains powerful herbs that work synergistically together to strengthen the immune system to ward off cold and flu symptoms.
Vitamin C
Vitamin C has been extensively researched in humans and proven to help prevent and treat cold and flu infections and decrease the duration of colds and flu's.
Echinacea Angustifolia 3:1 Extract
Used for years to stay healthy, Echinacea boosts the immune system.  A powerful natural antibiotic, Echinacea has antiseptic, antiviral and anti-fungal qualities to help stimulate the body's resistance to infection and common colds and flus.
Ginger Powder
A powerful anti-viral herb used to boost immunity.  With its pungent & spicy qualities, Ginger can help promote healthy sweating, which is often helpful during colds and flu's.  Sweat contains a potent germ-fighting agent that may help fight off infections.
Elderberry Extract
Elderberry extract is a potent treatment for colds.  It contains compounds known as Sambucus nigra agglutinin, or SNA that prevent some strains of the influenza virus from being reproduced.
Licorice Root
Glycyrrhizin, which is the main active ingredient in licorice root acts as an expectorant by loosening and thinning mucus and phlegm from the respiratory tract, making it easier to cough up.
Astragalus Root
Used in traditional Chinese medicine that has antiviral properties that strengthen immunity and prevent colds and flu.  An energy tonic and a mild stimulant that combats fatigue and prolonged stress.  It is used to increase metabolism, stamina, strength and vitality.
Wild Cherry Bark
Works as a wonderful expectorant that loosens and expels phlegm from the lungs and has helped people with colds and flu.  It is a mild sedative that helps to calm coughs.
Zinc Gluconate
Zinc can reduce cold symptoms.  When a virus collides with a cell that it can infect, receptors on the virus and receptors on the host cell match up in a way that allows the virus to enter the cell and begin the infection. Zinc physically binds to receptors on the surface of the virus, preventing the virus from binding to the host cell. Once zinc is introduced, the viruses can't infect new cells and the infection doesn't escalate.
Beta Carotene
Beta carotene protects viruses by enhancing mucous membrane secretions.  By producing the secretions, the beta-carotene prevents the virus from settling in your body.
Benefits:
• Strengthens and stimulates the immune system
• Builds immune function
• Loosens mucous, phlegm from lungs.
• Boosts immunity
• Stimulates the body's resistance to infection, colds and flu.
(90 CAPLUSES)
EACH CAPSULE CONTAINS:
Vitamin C (ascorbic acid) 200 mg
Echinacea angustifolia 3:1 Extract 150 mg
Ginger powder 50 mg
Elderberry extract (Sambucus nigra) 50 mg
Licorice root 50 mg
Astragalus root (Astragalus membranaceus) 50 mg
Wild Cherry Bark 50 mg
Zinc gluconate 15 mg
Beta carotene 500 mcg
Non-Medicinal Ingredients: cellulose vegetarian capsule shell, vegetable grade magnesium stearate.
Alora Naturals™ guarantees there are no other ingredients or excipients added to this formula other than what is listed on the label.
Recommended Adult Dose: Take 1-3 VegiCaps daily with food or as directed by a qualified health practitioner.
Caution: Do not use if pregnant or breastfeeding. Keep out of reach of children.