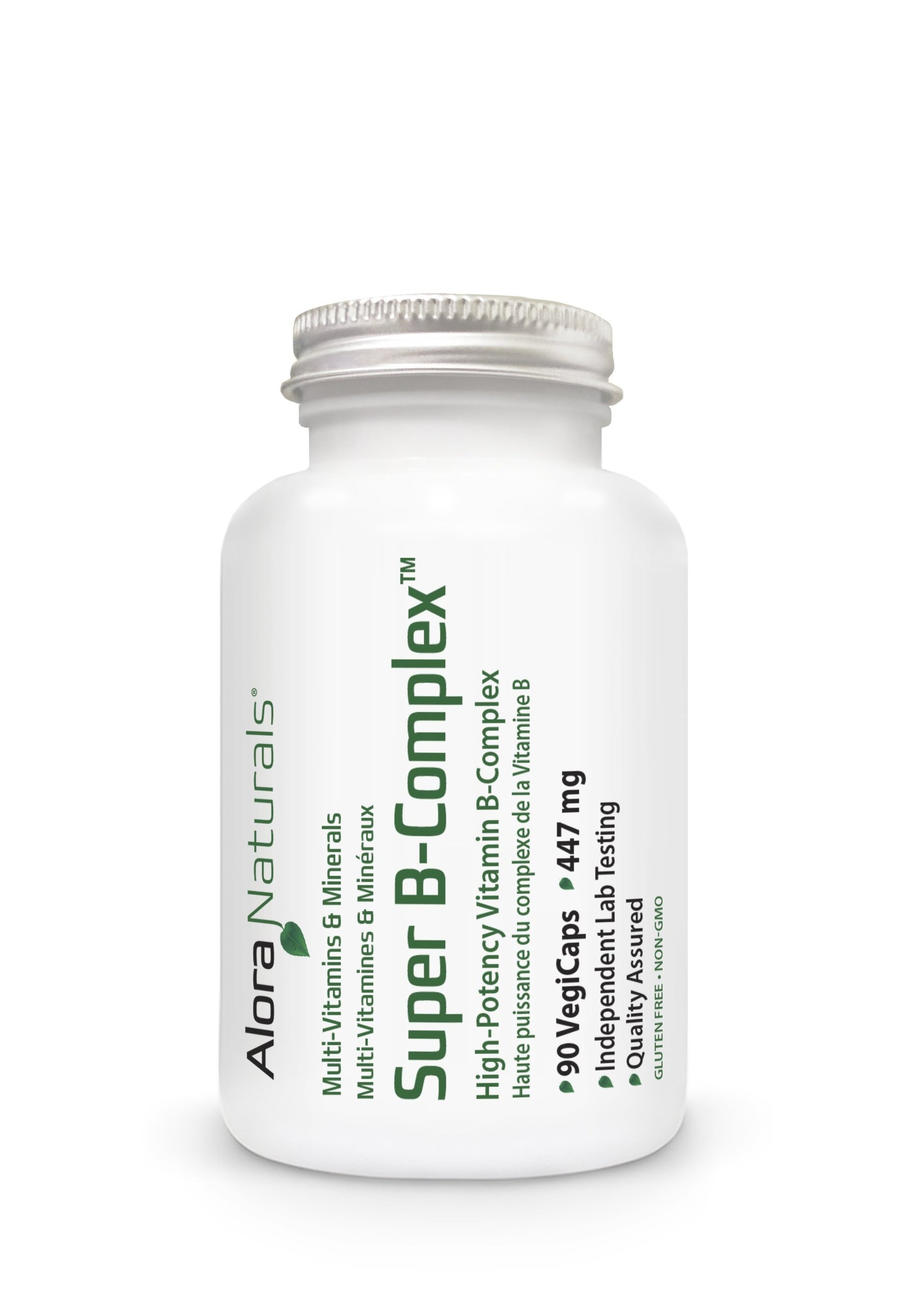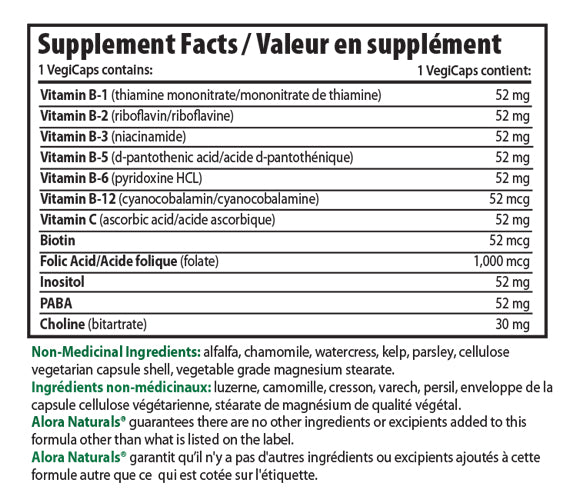 Alora Naturals - Super B-Complex 90Vcaps
Pickup available at Vikings Nutrition
Usually ready in 24 hours
Alora Naturals - Super B-Complex 90Vcaps
Vikings Nutrition
Pickup available, usually ready in 24 hours
5712 Rue Jean-Talon E
Montréal QC H1S 1M2
Canada
+15145081988
Super B-Complex is a high potency vitamin B supplement that aids in growth, development and a variety of other bodily functions. B-Vitamins play a major role in the activities of enzymes and proteins that regulate chemical reactions in the body, which are important in turning food into energy and other needed substances.
WHAT DOES EACH B-VITAMIN DO?
Vitamin B1 (thiamin) and Vitamin B2 (riboflavin) help the body produce energy and affect enzymes that influence the muscles, nerves and heart.
Vitamin B3 (niacin) has a role in energy production in cells and helps keep the skin, nervous system, and digestive system healthy.
Vitamin B5 (pantothenic acid) influences normal growth and development.
Vitamin B6 (pyridoxine) helps the body break down protein and helps maintain the health of red blood cells, the nervous system, and parts of the immune system.
Vitamin B7 (biotin) helps break down protein and carbohydrates and helps the body make hormones.
Vitamin B9 (folic acid) helps the cells in the body make and maintain DNA and is important in the production of red blood cells.
Vitamin B12 (cobalamin) plays a role in the body's growth and development. It also has a part in producing blood cells, nervous system function, and how the body uses folic acid and carbohydrates.
Deficiency of certain B vitamins can cause anemia, tiredness, loss of appetite, abdominal pain, depression, numbness and tingling in the arms and legs, muscle cramps, respiratory infections, hair loss, eczema, poor growth in children, and birth defects.
BENEFITS:
Increases energy to help the body cope with stress
Supports a healthy nervous system
Maintains a healthy immune system
 Supports proper brain function
 Helps metabolize fat, proteins and carbohydrates
EACH CAPSULE CONTAINS
Serving Size : 1 VegiCap
Vitamin B-1 (thiamine mononitrate) 52 mg
Vitamin B-2 (riboflavin) 52 mg
Vitamin B-3 (niacinamide) 52 mg
Vitamin B-5 (d-pantothenic acid) 52 mg
Vitamin B-6 (pyridoxine HCL) 52 mg
Vitamin B-12 (cyanocobalamin) 52 mcg
Vitamin C (ascorbic acid) 52 mg
Biotin 52 mcg
Folic Acid (folate) 1000 mcg
Inositol 52 mg
PABA 52 mg
Choline (bitartrate) 30 mg
Adult Recommended Use: Take 1 Vegicap per day with food or as directed by a qualified health practitioner.
Caution: For adults use only. Keep out of reach of children.