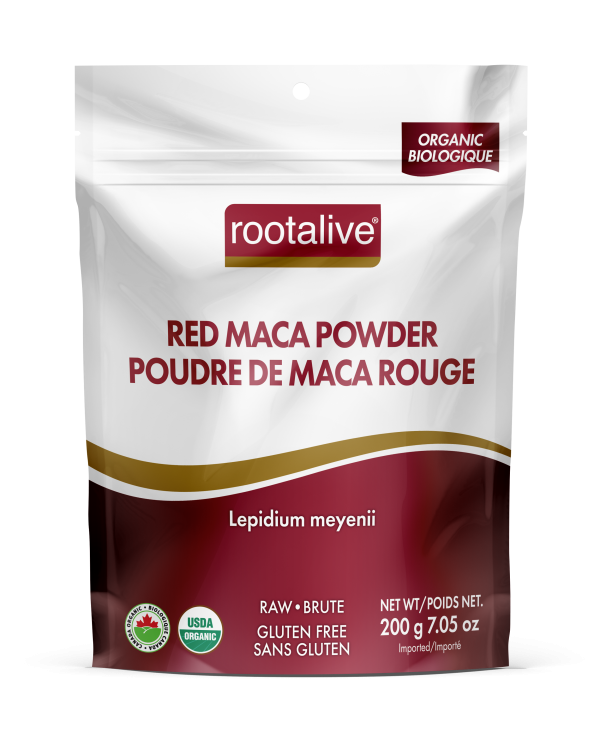 Root Alive Red Maca Powder 200g
Pickup available at Vikings Nutrition
Usually ready in 24 hours
Root Alive Red Maca Powder 200g
Vikings Nutrition
Pickup available, usually ready in 24 hours
5712 Rue Jean-Talon E
Montréal QC H1S 1M2
Canada
+15145081988
If you've been on the hunt for a natural boost of energy, our Organic Red Maca Powder is your new best friend!
Maca, native to the Peruvian Andes, is a potent superfood and an adaptogen. It is also known for delivering abundant energy and increasing stamina. Many have found that organic red maca powder can help to deal with stress and can enhance endurance and performance.
Organic Red Maca Powder is packed full of vitamins and nutrients that provide energy and support overall health. It has even been said that red maca root powder can promote good prostate health and support bone regeneration.
Red Maca Root Powder has a mellow malt-like flavour, and is mildly nutty. It works as a great addition to your food and drinks and can be the perfect boost of energy you need in your mornings. Try adding it to your morning oatmeal or smoothie concoction!
Benefits:
May help to increase energy and stamina
High fibre content
Filled with amino acids and minerals
Great source of calcium
Packed with vitamins
Suggested Use: Mix maca powder with water and take it as a shot. You can also blend maca with cinnamon in sweet tea or warm milk or sprinkle it on porridge, oatmeal or in pancake batter.
Storage Info: Refrigeration not required. Store in a cool, dark, dry place.
Country of Origin: Peru
Frequently Asked Questions:
Is Organic Red Maca Powder good for women?
The Rootalive Organic Red Maca Powder is great for women! It can act as a natural reinforcement of the female hormone progestogen. This can help with the symptoms that go along with menopause. Some have also seen regulation in the menstrual cycle.
Red Maca Root Powder is great for helping with fertility in both sexes and can help in the stage of growth for children.
What vitamins and minerals does Organic Red Maca Powder contain?
Our Organic Red Maca Powder provides magnesium, iron, potassium, silica, Manganese, Zinc Sodium, and Iodine. Each of these vitamins and minerals are great for restoring and rejuvenating the body.